THE VERY BEST Angkor Wat Tours
Most Angkor Wat Tours are run by Angkor Wat Tour companies.
They are based locally and offer many other Cambodia Vacation Packages to Angkor Cambodia or Phnom Penh, the Capital city of Cambodia.
Unfortunately, Angkor Wat is big business now.
I say unfortunately because the friendly smiles and warm hellos of the local people disappear once they know you need a ride to the airport or a tour of the "Show";
'The Show' being The Temples of Angkor Cambodia.
Cambodians are good people but they are taught that White people are all millionaires. They figure it won't hurt or even bother you to lose a little extra money. They figure you probably won't even notice it is gone so they try and charge you as much as possible.
They usually push the price right up to the point when you say, 'too much'. Then, they'll backtrack.
They rely on tourists to feed their families and are always looking out for their best interests. Not yours … but can you blame them?
I really love and respect Cambodian people for what they have endured but doing business with them is hard work.
When you arrive at the airport, you will be surrounded by people offering everything from a big bus to a side car for transportation to your Siem Reap hotel.
Then they will drive you to a hotel that they have organized a deal with. These hotels often cannot attract business on their own merits so they pay drivers to bring you there. These hotels are often not very pleasant and often lead to a bad experience.
This is not incentive for anyone to be honest and bring you to the best deals. This is incentive for him to bring you to the rip-off places and for you to do some research before you go to Angkor Wat.
I love Cambodia and I love Cambodian people but I guarantee a safer, cheaper, more reliable and more enjoyable stay at Angkor Wat or Siem Reap town if you book everything online before you go.
I don't say that very often. Look around this website and you'll see that I usually try and find it once I get there. It is part of the adventure!
A taxi ride from the airport to your hotel will start at $20USD. You can usually battle the taxi drivers down to $16USD by walking away and taking off your pants (Joke). Or, you can avoid all the bartering and the hassle by just booking an air-conditioned minivan to pick you up.
They will stand at the front of the pile of taxi drivers, holding a signboard with your name on it. Say hello because you can relax while he carries your bags and drives you in his air-conditioned mini-van to the foot of the Siem Reap Hotel that you chose (Or at least wrote down an address or 2).
The airport pickup costs just $10USD. The huge selection of Siem Reap hotels range in price from $3USD a night to $50USD a night (For a palace!).
I also have the 2 best Angkor Wat tours currently running and cheap as heck at $65USD (April 18, 2011). Once the local people know that you have a pre-booked room, transportation and Angkor Wat Tour, you are no longer a target to them and they will not harass you from morning until night.
It costs little to pre-book. You pay just 10% to own all bookings. If you pre-book a room that is $6USD a night (Which is a decent room) then you pay just .60 cents before you go. That is also returned to you if you cancel your booking.
You only pay if you actually decide to stay in that hotel or go on the tours.
The Cambodians are not bad people. They are actually beautiful people that need and use tourists to feed habits or families and their whole life.
Once they know that you are not walking potential business for them, they will leave you alone and you will really get a chance to see them and everything in a better light.
Arriving at Siem Reap Airport
You will save time and money by pre-booking your transport from the Siem Reap airport to the doorstep of your hotel. Someone will be at the airport to meet you when your plane arrives in Siem Reap Airport.
He/she will speak good English and will drive you to your Siem Reap hotel in a new air-conditioned mini van- saving you the hassle of picking up a rental car, negotiating unfamiliar traffic and figuring out maps. All you'll want to do is relax.
It costs $10USD. Cheaper than almost anyone except maybe a motorbike taxi.
Get more information about the best Private Airport Pick-Up and Transfer in Siem Reap.
The Angkor Wat Temple Tours
This is a full Day Angkor Wat tour that hits the road to the temples the moment they are opened to the public. You won't return to your hotel until after the gates have closed to the temples of Angkor Wat for the night.
In the morning you'll visit the Roluos Temple Group. It is a group of three major temples in an Ancient, Isolated Khmer Village some 15 KM drive from Siem Reap City.
These three temples are well preserved, isolated and thus quiet. The trip starts there so it will be early morning and to have these three temples to wander around was the highlight of the trip.
Preah Ko Temple, Bakong Temple and Lolei Temple extend over an area of 3km east of Great Lake. It is the peaceful quiet that will strike you first.
Then a feeling of awe that makes the religious-like atmosphere around those temples in the early hours of the morning so incredible.
Angor Wat is now too crowded to see except for a few hours late in the day, just before closing time. So, the second leg of this trip takes you back to Siem Reap and Angkor Wat itself.
You'll then spend two and a half hours touring majestic Angkor Wat before climbing up Phnom Bakheng Hill for the best view of the Sunset fading magnificently over Angkor and its surroundings.
All this includes all your entrance fees, hotel pick up and drop off in an air-conditioned mini-van and even lunch in Siem Reap (Little on the skimpy side).
Excellent 10 hour day for $65USD. You don't need to lift a finger with the hassles of getting tickets and bartering for a ride. One of the best all-around Angkor Wat tours for the Money.
Get more information about this Angkor Wat Tour from Siem Reap.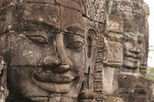 This is a second option of the best budget Angkor Wat tours. It turns out that some people absolutely refuse to go on a tour that does not include a stop at the famous Angkor Thom.
I don't blame them. Most people say that even the 'Marathon Angkor Wat Tours' require more than a single day to see everything that would fall into the "Must See" Category.
I agree. You should not expect to see even a tenth of the Angkor Ruins in a single day. I recommend that you purchase the 2 day pass if you have anything but the intention of getting a photo in front of Angkor Wat.
This Cambodia Tour of Angkor begins at the South Gate of Angkor Thom City. You'll get to explore the Bayon before continuing to Baphuon Temple, the Royal Enclosure and Phimeanakas.
A good look at the Terrace of Elephants and the Terrace of Leper Kings is slotted in before lunch.
Lunch is decent but I recommend you bring some extra food and water. They gave out free bottles of water all day but after lunch I was still hungry. A bag of chips or a sandwich would have been nice.
It's all about Angkor Wat after lunch. You'll get the rest of the afternoon to explore Angkor Wat and you'll need it. Time will fly by but this is the best time to visit Angkor Wat so you'll get around faster. It's back to your hotel after the gates close and Angkor Wat tour II finishes.
The price is $4USD more than Angkor Wat Tour 1 (69.99) but we think it is the best of the 2 Angkor Wat Tours. You could take 2 days and take both tours for $150USD!
You'll enjoy your stay to the fullest without having to barter, haggle and deal with money hungry hustlers around every corner.
That alone may be worth the money to some folk ... even though the bartering route ended up costing me more than any of these Budget Angkor Wat tours.
I am MR. Cheap and haggle over the price of everything. I ended up touring Angkor Wat on the back of a motorbike, drinking water and eating noodles at the cheapest food stands.
It cost me more than either of these Angkor Wat tours. I am a good haggler, as well.
A tour of Angkor Wat is one I recommend you book before you get there. I don't recommend tours over DIY very often but with Angkor Wat it was the difference between constant haggling and peace and quiet.
My second trip there saw me choose the peace and quiet. What a beautiful and magical place!
Get more information about Angkor Wat Tour II out of Siem Reap.
Leaving Siem Reap and Angkor Wat is a tough thing to do. It's a special place that always leaves me feeling that I have missed something important.
We all have to leave, eventually.
The more of your trip to Angkor Wat that you can pre-plan and organize, the more hassles you'll avoid (And the cheaper it gets). That includes even the ride out to the departure gates of the airport.
Take the Private Departure Transfer to the Siem Reap Airport.
Arrive at the airport on time, relaxed and with no hassles!
Home Page
| About Us | Contact Us | Site Map | Blog | Accommodation | Budget Hotels Hong Kong
Budget Hotels Danang, Vietnam | Haikou City Hotels, Hainan Island, China | Budget Sanya City Hotels, Hainan Island | Budget Hotels Hanoi, Vietnam | Budget Hotels Ho Chi Minh City, Vietnam | Budget Hotels Hoi An City, Vietnam | Budget Hotels Mui Ne Beach, Vietnam | Budget hotels Nha Trang Beach, Vietnam | Tell YOUR Asia Travel Story