"Arriving in Hanoi (Ha Noi) City Can Be Like Entering Another Dimension"
I was on a holiday when I first arrived in the Capital City of Vietnam.
I had come through Thailand, Cambodia and Laos on my journey so I was relaxed from all the peaceful nights and the smiles of the people I had met along the way.
I arrived in Ha Noi with the goal of taking one of the Hanoi city tours that allowed me to Cruise Halong Bay Vietnam. I was not prepared for what awaited me but few people ever are.
The City is like a slap in the face. It is so hectic, noisy and polluted that it is an overwhelming onslaught to the senses.
Many Vietnamese people seem to have an unquenchable desire to make as much noise as possible in an effort to attract as much attention as they can.
It all adds up to a very bustling place to visit, leading to a love / hate relationship with anyone who crosses her path.
Motorbike traffic is dense and the drivers wild with desire to get where they are going. It can be dangerous crossing the roads because drivers have little regard for pedestrians.
Cars have little regard for motorbikes and trucks will squash cars if they get in there way.
---
What the Heck is Ha Noi?
Ha Noi is the Capital City of Vietnam as well as its cultural Heart. It's a small city of 3,145,300 people when compared with the 8,000,001 people living in Ho Chi Minh City.
It's also a long walk if you run out of gas because the two cities are 1760 km (1094 miles) apart.
They have preserved Ho Chi Minh's dead body in Ha Noi (Creepy). I saw it on a Full-Day Ha Noi City Tour with Ho Chi Minh as the theme.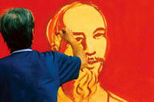 Ha Noi is also famous for great showmanship in Puppetry and Theater.
These are all examples of things you won't find in Ho Chi Minh City to the South. That is the reason that Hanoi is the undisputed heart of Vietnamese Culture.
---
Where to Stay in Hanoi
The 'Old Quarter' of town is where most people like to stay. It is made up of the first 36 streets ever built in Ha Noi and offers a well-preserved glimpse of the first Colonial and Pre-Colonial architecture.
Hanoi's 'Old Quarter' is second only to Hoi An as specimen for large areas of well-preserved Colonial and Pre-Colonial houses and architecture.
The 'Old Quarter' is also the best place for food, nightclubs and shopping at the night market. The streets are very narrow and each area is made up of little shops and dealers selling art, jewelry, silk and other specialty items.
The area is also a great 'casting off' point for any Trips and Excursions throughout the Northern half of Vietnam or up into China.
Have a look at the Hotels available in the City.
---
How to get to Hanoi
Most People Fly into Hanoi
If you're flying out of Bangkok then your best flight prices can be found at 12flight.com or Cheapoair.com
Both offer excellent deals in the region and to Ha Noi.
Most folks arrive at the Noi Bai International Airport. It's a fairly small airport but coming through through immigration was just as fun as any other airport in Vietnam. The Immigration people are so serious and will often stare at your face and then to your passport photo many times.
Please don't consider bringing along anything that could be found and cause problems for you. Even flying in-country is a 'Not worth the risk' scenario.
The Immigration officers all pack Machine Guns under their desks. The good news is they only shoot water or maybe some of the local Vietnamese soup.
But you'll be so prepared for them because you'll already have a Vietnam Visa or you couldn't have even boarded your flight.
Once you get through the Immigration then you can't go wrong getting out of the airport.
You'll see the doors ahead of you and once you're outside, you'll be offered rides on motorbike taxis and given hotel and restaurant recommendations galore.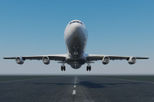 The last thing I need is the hassle and worry of where I'm going to get a cab and if they know where my hotel is and if they are going to rip me off or not (The cab driver).
That is where I will spend the money and get one of these airport transfers.
I may scrounge every penny from that day forward but it can be money well spent to have someone waiting for you at the airport with your name written on a sign.
From that moment forward everything is taken care of for you. You have no reason to worry and nothing to do but relax on that first day.
The best budget Shuttle Bus Transfers from Hanoi Airport to the doorstep of your Ha Noi hotel can be booked online before you even go. Transfer services are available 24 hours a day, 7 days a week.
All for a cost of $7.79USD. Sorry, but that's cheaper than any taxi cab.
Learn more about The Hanoi Airport Shuttle Bus Service.
There are taxis available at everywhere. They were asking anywhere from $15USD to $20USD for a ride to the 'Old Quarter' and very near Hoàn Kim Lake in the center of town. (October, 2011)
It is a good idea to have some sort of a destination beforehand. "Where you go?" They'll ask you. If you flinch, you're in trouble.
The taxi drivers will be full of ideas for places you should stay. Each of them takes a commission from these hotels because most of them are unable to get clients based on their own merit.
Check into some of the Budget Ha Noi Hotels available before you go.
You don't necessarily have to book a room but get an address or two that you like and get the cab to drop you there.
Getting yourself anywhere near Hoàn Kim Lake and the 'Old Quarter' will almost assure you find a Guesthouse or Hotel. Unless they are all booked.
The Bus from Noi Bai International Airport to the 'Old Quarter' of Ha Noi
The bus is the great equalizer. It's so cheap and the best part is there is no one to argue with. You don't need to know EXACTLY where you are going and they don't yet seem to have a 'special' rate for foreigners.
Bus #17 will take you from Noi Bai International Airport to the 'Old Quarter' of Hanoi.
Don't get off the bus until you've crossed Chuong Duong Bridge and gone a few blocks into town.
Look for Hoàn Kim Lake as your landmark. As long as you ar near that, then the town is yours from there. Either walk the short distance to the first wave of Guesthouses and Hotels or grab a moto-taxi and get a ride to your Guesthouse or hotel.
The cost of the bus is 5000dong (16,000d is $1USD) but it'll take nearly an hour to get you into town.
Ah, the bus. You might get lost and you might end up walking a long way, but you'll save some money and you'll experience so much more than those snobs in taxi cabs!
Airport Shuttle-Buses to Town
The Shuttle Bus departs from opposite the Vietnam Airlines Office on Quang Trung street. It stops at all the Major Hotels (and few of the Budget variety).
If you ask nicely, they might even drop you right at your doorstep (Driver will expect a Dollar or two). The tickets are $8USD into the center of town but prices rise frequently and often and all the time.
The Hanoi Train Station was also known as the Ga Hang Co Train Station.
Hanoi Train Station,
120 Le Duan Road.
Ph. 825-3949
All Trains arrive daily from the South of Vietnam. The Reunification Express comes all the way up from Ho Chi Minh City.
You could also be coming in from China or Laos but either way, the most popular way of getting into town from the Hanoi train station is by Motorbike Taxi or 'Say Ohm' (Xe Ohm) in Vietnamese.
I guess it all depends on how big your bags are. There are cabs available at the exit of the Train Station as well. They'll try and negotiate a price but just insist on using the meter.
If you don't have a hotel booking or some kind of destination to offer then it leaves you little option but to pop from hotel to hotel. That can get expensive very quickly.
What About the Tour Bus to Ha Noi?
Most of the "Open-Tour" bus itineraries either begin or end in Hanoi, with Hue the previous stop (12-14 hours, US$8-9), and from there to Hoi An, Nha Trang, Dalat, Mui Ne, Ho Chi Minh City, and other cities in Vietnam, depending on the bus company.
The only good one I got to know was the Sinh Cafe Bus. Tickets are sold at every Guesthouse and Travel Agent in any of the cities where it stops as mentioned above.
Most bus companies also run into Vientiane and Savannakhet in Laos ($20USD-$25USD). Remember that prices vary widely and it pays to check into at least a few travel agents and Guesthouses around where you're staying.
You will not always find the best prices in the Guesthouse you're actually staying in.
---
I stayed in the Indochina Gold Hotel. It's right in the center of Old Hanoi, set on narrow quiet road surrounded by ancient streets in the heart of the City.
It's cheap at $19.84USD for a Deluxe Private Single and located in a great location. It took me just 2 minutes to walk to Hoàn Kim Lake.
Have a look at the hotels and consider noise problems as you do. Many of the rooms face major roads which means you'll be fully exposed to the noise of the honking motorbikes.
The sound of honking, howling motorbikes doesn't end until 2AM and begins again around 5AM. Always choose a room facing the back, as far away from the road as possible but not one that faces an outdoor market.
The smell of any of the local markets can be so bad that you will not be able to sleep through the 5am arrival of what smells like year old fish sauce. This stuff will damage your lungs.
---
The Changing Seasons in Ha Noi
Hanoi has a few more seasons than Ho Chi Minh City in the South of Vietnam. Summers (May to September) are hot and humid and winters (November to March) are cool and dry.
There is a heck of a lot of rain in the summer months and it gets hot (38-40°C). Winters are dry but can get chilly. I've seen temperatures as low as 6-7°C.
Don't let the winter temperature fool you into lugging heavy sweaters in your bag while in Thailand or anywhere in the Southern part of the Continent.
You can purchase flawed Brand Name ski jackets, sweaters and gloves...heck any clothes you'll ever need at prices that are 20% of what you might usually pay.
Learn more about current and forecasted Ha Noi Weather.
---
The seasons of Ha Noi will greatly influence what Hanoi city tour you decide to try.
You could try any of these Hanoi City Tours.
The Ha Noi City Full-Day Tour including Cyclo Ride
The Day Trip from Ha Noi to The Perfume Pagoda
A Vietnamese Cooking Class at Hanoi's Cooking Centre
There is one trip that you must not miss. You must Cruise Halong Bay Vietnam in a 'Junk' Boat. If you have time for just one of the tours then you must place Halong Bay at the top of your list.
To cruise Halong Bay Vietnam is simply the most striking and breathtaking of trips you can take out of Hanoi.
It is a beautiful adventure even in the pouring rain. The thunderstorms at night are an incredible sight to see from the deck of your Vietnamese Junk Vessel, anchored in the middle of the Bay.
Try and make the trip to see Halong Bay. You may not have the time to sleep overnight on the waters but it remains a place that I highly recommend.
The three best tours that cruise Halong Bay Vietnam are ...
There are many different Hanoi City Tours. Hanoi is full of Museums but most bored the pants off me.
I usually like Museums but the ones in Ha Noi are more propaganda than interesting artifacts attesting to the vibrant civilizations of the past.
Here are a few of the sights you will see if you take any of the Hanoi city tours.
Ho Chi Minh is only awake from the dead between 8AM-11AM Mondays and Fridays. It's free to get and join in the faced-paced line that will slowly snake into the bowels of the Mausoleum.
Guards are posted at every five paces and there are many rules of conduct
No Shorts or Short-Sleeved Shirts

No Bags allowed inside

Must always retain a respectful demeanor (I guess this is up to the discretion of the White-uniformed Guards)

No Hands in Pockets
They keep his preserved body in a glass viewing 'Coffin' in the bowels of the building. The room is chilly and dim. You can't talk while in there nor wear short pants or any other 'disrespectful' attire.
One guy tried to get in with his underwear on and was unsuccessful because of the guards posted at every five paces.
The best fun for me was watching the Vietnamese reactions as they left the Mausoleum. Some are crippled with tears and others are reverent and solemn.
No Photos are allowed inside either.
Had enough of Ho Chi Minh? I certainly had my fill of him after the first few days. To me the most fascinating aspect of the man is the reverence he gets from the Vietnamese people.
Everyone has a right to admire someone but this guy is a God to the Vietnamese.
I didn't read the same books they did growing up. That's what made the trip so interesting for me. The Vietnamese have built their entire view of themselves and the world through the Vietnam/America/French/Chinese wars.
The streets are named after Famous Military Commanders and the most famous of them (Ho Chi Minh) is such an immortal figure that you won't be allowed to take a picture of the huge bronze statue of him in the Ho Chi Minh Museum.
Ho Chi Minh Museum
19 Ngoc Ha St,
Ba Dinh, Hanoi.
Tel. (84) (4) 846-3572
Open 8-11:30am, 2-4pm, closed Monday and Friday afternoons. Admission 10,000 dong.
Ho Chi Minh Museum is interesting not for the photos and letters of 'Uncle Ho' but for the exhibits on the Third floor. It all sends a clear message. Vietnam is a better country under Communism.
There's even this cave on the Third floor that is somehow supposed to be a representation of the inner workings of Ho Chi Minh's thoughts.
I took it as the day the idea dawned upon him that the war would be won with the tunnels.
Like with the French and the Chinese before.
Also is this depiction of Saigon under the Democratic days of Prime Minister Diem before the Communists took over. It shows a 1958 Edsel car crashed into a wall and general images of Chaos in the streets.
The Edsel was a car that failed to sell in America. It was a famous failure in the proud automobile factories at that time.
It's amazing to see the efforts they go to in order to mold the 'facts' in order to support themselves against contradiction.
The Vietnamese Army Museum
The army museum is on Dien Bien Phu Street. They'll lift 20,000 dong from you as an admission fee and then if you pull out your camera, they'll run over to you and ask you pay a further 10,000 dong to take photos.
I enjoyed this museum despite it being again biased but who isn't? This is a big place that encompasses four buildings containing two millennium of Vietnamese military historical artifacts.
Vietnamese are very proud of their military history and this museum contains everything from wartime documents to the MIG-21 jet fighter and T-54 tank on display outside.
The Vietnamese Air Force Museum
I mention the Air Force museum as it has the largest collection of MiG fighters, a huge Mi-6 helicopter, and other aircraft on display.
Most of them may be weather-worn but if you're interested in such things then it is worth a visit.
Head to Truong Chinh Street (Southwest of center) and you can't miss the jet fighters outside.
Thang Long Water Puppet Theatre
57B Dinh Tien Hoang St. (Right across street from Hoàn Kim Lake)
Hanoi, Vietnam.
Tel. (84) (4) 824-9494
They are really good at this and the people here love a good Water Puppet show. The puppets are little wooden Characters that Sing and Dance on the surface of the water, telling stories of Vietnamese folklore.
It's all sung in Vietnamese but you can get pamphlets that tell you the story in English when you buy you tickets for $4USD-$5USD. It's an extra dollar if you plan on taking photographs.
Head down there a few days early if you want to get tickets. I was informed that getting tickets even 2 days in advance is very difficult.
Pho Trang Thi Street
Hanoi, Vietnam
(84) (4) 825-4312
The Hanoi Opera House is open to the public from Friday to Sunday starting at 5Pm and closing at Midnight.
Head down Trang Tien Street and get a good look at the Ha Noi Opera House. The French built it in 1911 when they employed Hanoi as the capital of their Indochina interests.
Vietnamese symphonies are the most common performances held here but I heard that occasionally foreign performance comes to town.
The place is big with 900 seats.
If you want to see a Vietnamese symphony or need a good sleep then pay $12USD-$16USD for a seat and enjoy.
Hoa Lo Prison ("The Hanoi Hilton")
Head down to Hai Ba Trung Street to have a look at very little of what is left of the prison that used to house Captured American G.I's during the Vietnam war.
Only the Central Gate and a small museum remains. They are building a hotel on the site of the old Hotel Hilton.
What Communism?
Hoan Kiem Lake is a relatively quiet place where you can do Tai Chi with Hanoians in the early morning. It is a place very popular with the locals trying to escape the chaos of the streets of Ha Noi.
Not as great during the evening when Gay men lurk around the area, probably in search of other Gay men. Take extra caution at night even though the crime may not be violent in nature, scams abound.
The lake is located between the Old Quarter and the French Quarter so it's pretty much the centerpiece of Hanoi. Ngoc Son Temple sits a one end as a reminder of the "Giant Turtles" that live in the lake (Vietnamese Folklore).
Getting a hotel somewhere withing walking distance of the lake guarantees that you'll be near most major sights of the city.
When it is Time to Leave
Hanoi is also the origin or departure point for almost every train route in the country. The 'Union Express' runs from Hanoi to Ho Chi Minh City departing Ha Noi station (formerly Hang Co station), with stops at cities and provinces along the line.
Trains also depart Hanoi frequently for Hai Phong and other Northern cities.
Return to the Top of the Page
Learn More About Vietnam Travel

Return to Our Budget Travel Asia Home Page