While the drum beats softly in Thailand, Cambodia and Laos, Ho Chi Minh City (Saigon) is best described as an abrasive noise farm.
The sound of a million motorbikes floods the streets and the exhaust from their waste makes the air thick and heavy. It is enough to drive some people mad. Those that do live in Sai Gon long term often become its most vocal opponents.
You'll often see the stress that comes from crossing the streets of Saigon while motorbikes fly past you, sometimes within inches.
It isn't boring and for a short stay it can be quite thrilling.
I have met many who loved their time spent there.
So, love it or hate it you will have to form your own opinion about The city that Ho Chi Minh named after himself.
Perhaps it's the huge salaries that English teachers in Ho Chi Minh City can earn that keeps them here.
Or maybe it's the 'battle of daily life' that keeps people on their toes and their senses 'alive'.
Ho Chi Minh City (Saigon) is perhaps the only city in the world where the police try to stop you from taking a picture of the sidewalk!
Then again, it was near the American Embassy.
Some people call Ho Chi Minh City harrowing and others heaven, a complete quench of their thirst for action.
Getting to Ho Chi Minh City
Most people start in Thailand and make their way to Cambodia and then Vietnam afterwards.
It's a good plan and the most efficient route.
If you have decided to fly into Saigon
then consider booking The Private Ho Chi Minh City Airport Transfer.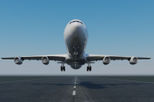 For $8USD they will send someone to wait for you at the airport holding a sign with your name on it. From that moment on everything is taken care of. Just sit back while they carry your bags to your Private Shuttle, which will take you directly to your hotel or guesthouse.
It saves the worry about where I'm going to get a cab and if they know where my hotel is and if they are going to rip me off or not (The cab driver). That is worth the $8USD. Heck, even a Tuk Tuk will charge you $10USD and a taxi will go no lower than $15USD.
How to Get to Ho Chi Minh City by Land
There are many border crossing from Laos into Vietnam but the border crossing closest to Saigon would be the Bo Y (Laos) / Ngoc Hoi (Vietnam) border crossing.
The border at Bo Y is open to foreigners but is probably the most challenging place to cross. You must obtain a valid Vietnamese visa before hitting the border at Bo Y.
Most people over-night in the Laos town of Attapeu then get the Mini-Bus to the border crossing. The first Mini-Bus departs Attapeu at 07:00am in the morning and the last one leaves no later than 10:00am. The price for the 119km ride from Attapeu to the Bo Y border crossing costs 90,000 kip.
The Mini-Van continues from the border into the town of Ngoc Hoi, which is about 18km on the other side of the border in Vietnam. The entire trip takes about three hours. Once you get to Ngoc Hoi, you can get a bus to nearly every destination in Vietnam, including Ho Chi Minh City.
Trains run from Beijing to Hanoi, passing Nanning and Pin Xiang in China before entering Vietnam at Dong Dang (North of Lang Son). There is also a road crossing known as Huu Nghi in Lang Son province.
Trains coming from Kunming cross the border at Lao Cai, in North-Western Vietnam.
From Guangzhou, you will cross the border at Mong Cai, a few hours drive from Halong and its spectacular Bay. (Halong Bay)
Taking the Speed Boat from Phnom Penh to Chau Doc in Vietnam is pretty easy but is a longer journey than going overland.
If you leave for Ho Chi Minh City by speedboat then your point of entry into Vietnam is Chau Doc in the Mekong Delta area.
If you arrive from Cambodia by road into Ho Chi Minh City, you will enter Vietnam at the Moc Bai border crossing, which connects Vietnam`s Tay Ninh Province with Cambodia's Svay Rieng Province.
I video taped most of the ride by bus into Vietnam from Cambodia. You can check out the full Cambodia to Vietnam Video here.
Best Accommodation Options in Sai Gon
Most Visitors to Saigon stay in the Pham Ngu Lao area of Ho Chi Minh city. I have stayed in many different areas of the city but I keep coming back to Pham Ngu Lao.
It has the amenities that you won't find in other areas of the city. Sure, it is filled with tourists but for this city that is a good thing. It is actually the safest place for foreigners to stay and the accommodation is good and abundant.
Get more information on where to stay here.
Don't forget that the best source of Ho Chi Minh City hotel reviews are on tripadvisor.com
Things to See and Do in Sai Gon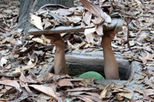 See the best of Ho Chi Minh City on this Budget full-day tour.
Visit the Reunification Palace and War Remnants Museum, followed by the Notre Dame Cathedral and the Post Office. Eat at the renowned 'Pho 2000' (Cheap, excellent Pho Soup) before heading to Giac Lam Pagoda, the bustling Chinese district of Cholon and finally to Ben Thanh market for a shopping spree.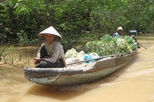 Sail down the Mekong River from Ho Chi Minh City to the Mekong Delta. You'll cruise through the lush green vegetation of the Mekong Canals to visit the floating Markets and then to a fantastic Orchard for a delicious lunch complete with every tropical fruit in season. After lunch, you'll be taken to Vinh Long town for the return trip back to your Ho Chi Minh City Hotel.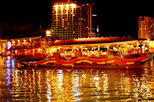 There is no better way to experience the vibrant city lights of Ho Chi Minh City than on the Bonsai two-hour dinner cruise on the Saigon River.
Visit the Tax Shopping Center
135 Nguyen Hue St, District 1.
You should visit the Duty-Free shopping Center in downtown Ho Chi Minh City within 5 working days of your arrival in Ho Chi Minh City (Saigon).
After five days they will no longer sell anything to you at Duty-Free prices. I don't know the reasons but just keep it in mind.
If you are coming overland from Cambodia then it is cheaper at the Duty-Free shop at the Moc Bai border crossing.
Barring that, get to the Tax-Free shopping center (address above)within five days of your arrival. You'll need your passport in hand to confirm your arrival date.
Quang Truong Cong Xa Paris, District 1.
This Cathedral was built by the French in 1877. It's the best known building in Ho Chi Minh City for its neo-Romanesque architecture and the two towers that stand 57m high.
A statue of the Virgin Mary stands right out front as if to welcome you in. Last year red colored tears began to run down its stone cheeks. It went on for weeks and you couldn't even get in to see it for the crowds.
People sold hot-dogs and made a killing.
Ho Chi Minh City History Museum
2 Nguyen Binh Khiem St, District 1, HCMC.
This is one of the oldest museums in the city. That doesn't mean it didn't bore the heck out of me though. The truth is that unless you are an enthusiast about antiques; the Phu Nam culture, Cham arts and Mekong Delta arts, it's difficult to appreciate.
But everyone has a passion and if yours is the fore-mentioned arts, then get down there. And don't be offended when they triple charge you as a foreigner. It's still cheap at about $3USD a person.
1 Nguyen Tat Thanh, District 4
This building was the place where Nguyen Tat Thanh, later known as Uncle Ho (Ho Chi Minh), embarked on the Latouche Treville to go abroad and begin the struggle for Vietnam's independence.
The museum is dedicated to displaying materials pertaining to everything about President Ho's purported activities.
Of course, it's all about seeing Ho Chi Minh through the eyes of blind, reverent communist Vietnamese. He is their hero and a god-like figure so it's a political statement in the old Communist way. I loved that part of it.
It was interesting to see how people react to this account of a man who exterminated nearly two million of his own people and seized their land and assets in the process.
But I should leave my opinions out of it.
3 Hoa Binh St, District 11.
Dam Sen is THE hangout place for teens and adults alike. It's usually crowded on the weekends but the water-park inside is refreshing and the roller-coaster is cute for kids and stupid for anyone over 10.
So, of course I went, my knees stuffed into the dashboard of the tiny car. I won't be including a picture of that. It was ugly.
This is a great place to do some shopping before you leave.
Good for fake Rolex watches (Incredible quality), T-shirts; maybe a traditional Vietnamese dress for any cross-dressers or women out there.
And the coffee and spices to die for can be found here.
Just remember that you can usually shave %50 off of the asking price. I never pay more.
The sales person will crumble as you walk away and if not the other 57 stores will surely help you out.
Reunification Palace (Independent Palace)
133 Nam Ky Khoi Nghia St, District 1.
This was the site of the former palace of the French Governor of Indochina. Built in 1868, it became the presidential palace of South Vietnam when Ngo Dinh Diem came to power in the 1950s.
After being damaged by bombs during a coup attempt in the early 1960s, the palace was rebuilt. On April 30, 1975, tanks of the liberation army crashed through the main gate of the palace, ending the 20-year war for Vietnam's reunification.
There are some tanks and jet fighter aircraft parked near the front entrance. There is a also a captured American tank as well but there is little else to see here.
Inside the palace is just sterile and has that old man smell. Boring for me but it's there for any of you who would like to see the map room or other wartime memorabilia.
Once the headquarters of the armed forces in Ho Chi Minh City (Then Saigon). Gia Dinh, Cu Chi Tunnel is a system of 200km of tunnels between 2.5m and 12m underground.
A ninety-minute drive north of Ho Chi Minh City, the Cu Chi Tunnels were built by Vietnamese resistance fighters during the long years of struggle for independence and unification.
Four meters below the ground, the three level tunnel complex is spread over 200 kilometers and was able to withstand the force of repeated bombings and the weight of the heavy armored vehicles rolling above.
This subterranean city housed not only conference rooms, guard posts and booby-trapped false tunnels for use by the resistance fighters, but also Kitchens, sleeping quarters, school rooms, field hospitals and a mini-cinema for use by the whole community.
Today the tunnels have been widened to allow easier access for the many overseas and local visitors who come to marvel at the ingenuity of the war-time inhabitants of Cu Chi.
Learn more about the Best Budget Cu Chi Tunnel Tours.
Tan Phu Street, District 9.
For provincial visitors to Ho Chi Minh City, Suoi Tien is a must-see place. It's interesting because of the huge statues of the founders of Vietnam and the kings of the Hung Dynasty.
28 Vo Van Tan Street, District 3.
A must-see for foreign tourists visiting Ho Chi Minh City. On display are exhibits concerning the atrocities during the Vietnam war such as My Lai massacre and victims of napalm bombs and Agent Orange.
There is also a guillotine brought to Vietnam by the French colonialists. In the late 1950s, this guillotine was moved to several provinces in South Vietnam to execute revolutionists.
There is also a souvenir shop that sells items related to the war.
Your Ho Chi Minh City Stories and Questions
Share with us your views on Ho Chi Minh City, Vietnam. Is it better to spend your time in nearby Phnom Penh, Cambodia and avoid Vietnam altogether?
What Other Visitors Have Said
Click below to read what ideas other visitors have contributed...

Return to the Top of the Page
Leave for Our Vietnam Travel Page

Return to Our Budget Asia Travel Home Page