It is possible to travel to Hong Kong (HK) on the cheap but you need the best facts about Hong Kong first.
Hong Kong tourism is growing faster than we have been able to keep up with but we think we finally have a handle on it.
Travel Hong Kong and you'll find that the place has something intoxicating about it. It's the kind of place where you can leave a piece of your heart in.
Then you're in real trouble because it will become the only place you'll ever feel whole in again.
This Hong Kong travel page is written as it happened but with the details included like bus numbers, street numbers, fees and directions to most everything people come to Hong Kong to see and experience.
The plane ticket will be your biggest expense.
Finding good cheap flights to Hong Kong is a difficult thing to do, especially around high season or Chinese New Year.
I'm the cheapest man to ever travel Asia so I booked a one-way ticket from Vancouver, Canada to Hong Kong on Oasis Airlines. It cost $359USD.
(*As of April 10th 2008, it seems that Oasis Hong Kong Airline is unable to continue operations. Many flights to London and Vancouver have been canceled so I'm avoiding them at this point. (Or just until oil prices drop!)
There are few true budget airlines left.
As of May 28, 2011, The best place we know to compare prices and find the cheapest flights to Hong Kong is at Cheapoair.com
. They are easy to use and they list prices for all airlines.
It searches for the best prices first. That's why we like it so much. It is a budget-minded search engine for air tickets anywhere in the world.
What's it like to travel to Hong Kong?
You'll either be riding the bus and staying in the smallest hotel room you've ever seen or riding in a Limousine and paying $70USD-$10,000USD a night for a room with gold-plated toilet seats.
I can't do that because I'm allergic to gold. Skin breaks out in hives. So I headed to the most famous 'budget' area of Hong Kong. That was despite the stern warnings of many people who travel Hong Kong regularly.
The locals curse the place as a slum at the bottom of 'Nathan Road'.
I was being watched. I realized it the moment I got off the plane in Hong Kong. But when I saw her beautiful face and golden hair I felt calmed.
Even the long line-ups in front of Hong Kong Immigration felt less painful.
Most people who travel to Hong Kong don't need a Hong Kong Visa. You'll probably qualify for a typical 3 month visa upon arrival but some Nationalities get a 6 month visa.
And some people get none at all.
If you come from the country 'Legwithnotoe' then you might need a visa.
Find out where you fit in before you travel to Hong Kong here.
It's not so easy to get an entry visa into the Mainland of China. Even though you managed to travel to Hong Kong and pass through immigration doesn't mean you can head up into China.
You'll have to get a separate Chinese visa if you want to head up into the Mainland.
The quickest way to get a Chinese Visa is just after you travel to Hong Kong airport. There is a kiosk in the downstairs foyer that issues Chinese Visas.
You'll need a few passport-sized photographs and about $40USD cash (That was January 2008). Get the best directions to the service and current information at any of the many information booths you'll pass along the way to the baggage claim.
Or you can get your China Visa at China Travel Services while you're staying in Hong Kong. It will take a minimum of 3 working days and even up to 6 days. Or get the Chinese visa at your local Chinese embassy to avoid all the strain.
Some people don't travel to Hong Kong to get stuck there for the 3 working days to get a Chinese Visa.
Travel to Hong Kong City from the Airport
I exited Immigration with a 3 month Hong Kong visa in my passport. I smiled and walked right into the same Girl who I'd seen following me earlier.
She looked at me in a way that left me uncertain. I didn't know what to do with my arms. I grabbed my heavy bag from the baggage belt as though I was muscular and able to easily float it over my shoulder.
The muscles in my shoulder tore and waves of pain flooded my temples. I knew she was watching me so I concealed the pain as I walked past her.
It was finally the time to travel to Hong Kong city itself. They had set me free in their country!
The first thing to do when you travel to Hong Kong is get from the airport to the comforts of your Hotel or Guesthouse. My destination was Kowloon.
Kowloon is attached to the Mainland of China. Hong Kong is the small island separated from Mainland China by Victoria Harbor.
I knew my destination well because I had some written down the addresses of some hotels in Hong Kong.
But I didn't book a room online. Even though I've booked rooms through Hostelbookers many times before and it can cost as little as $2USD to reserve a room with them before I travel to Hong Kong or anytime I travel Asia.
I thought I'd be smart and travel to Hong Kong without a room booking. Everyone insisted that I'd get an even cheaper price once I arrived. I travel Asia regularly but learned a valuable lesson that day.
If you travel to Hong Kong at night then book a room in advance. It's the best advice I know.
The Airport is about a 2 hour drive from 'Central' Hong Kong. I really wanted to get from the airport to Kowloon as fast as I could. I was exhausted after 15 hours on a plane just to travel to Hong Kong.
I only wish I knew then what I know now. I would have booked the Hong Kong Airport Shuttle Bus.
All you have to do is give them your flight number and date you will travel to Hong Kong. An English-Speaking Chinese man will meet you in the arrivals area just outside of Immigration.
He'll be holding a sign with your name on it. Then he'll carry your bags to his shuttle bus parked in the 'No Parking Zone' out front.
Knowing that they are waiting for you when you travel to Hong Kong is comforting. After a 15 hour flight, I'm willing to pay a little more for the convenience of getting to the comfort of my room as quickly as possible.
For $23USD they'll drive you to your doorstep anywhere in Kowloon, Hong Kong Island or even The Ocean Terminal where the Ferries to the outer lying Islands depart.
It's a good price considering they run the service 24 hours a day. Even if you travel to Hong Kong during the early morning hours, you can still book the Transfer Shuttle Bus online and they'll be there to meet you.
That's what I did the last time I did the 'travel to Hong Kong with no money' thing. This time I was going to be smart and save some money by taking the bus and doing some 'On-The-Spot' negotiating for my accommodation.
After Immigration I entered the arrival hall. The arrival hall was filled with people waiting for loved ones so I bolted through all that hugging and grabbing.
Many people travel to Hong Kong from Canada and the U.S. to see family.
After the arrival Hall I came to was a set of automatic glass sliding doors. Through the door was the fresh air of a city I was already exited to be in.
I went out through the doors, took a single breath of fresh air and lit a cigarette. It was dark outside by 10:12pm and for the first time I began to worry about where I was going to sleep that night.
There were rows of taxis parked and waiting to escort me into town. I just needed to beckon them. I never did though. Nor did I book the shuttle bus online.
I just lit my cigarette and readied myself to approach one of the taxi drivers. At least they would be a good source of information.
I looked behind me and saw the same blond-haired girl standing against a pillar about 50M on the other side of the sliding doors. She never smiled at me but never withdrew her gaze either.
I walked over to the taxi driver at the head of the line. He straightened his posture and puffed out his chest to greet me.
"Where's the cheapest place in town for hotels and Guesthouses?" I asked. He looked surprised at first but answered without hesitation.
" You'll find the backpackers, Indians and Africans around the bottom of Nathan road in Kowloon. there." He seemed ready for me to respond in some unsavory way.
Maybe most people who travel to Hong Kong for the first time always do.
"How much would it cost me to go there from here? In the taxi, that is?" I asked, pointing to his cab.
"Taxis into town are around $30USD-$35USD plus $5HKD for each piece of baggage you put in the trunk."
"Thanks."
Taxis are strictly regulated in Hong Kong which is great for tourists but it didn't matter to me. $35USD amounted to a night's stay in a hotel room and was way more expensive than the Shuttle bus.
I didn't travel to Hong Kong to blow all my cash on taxi cabs. I decided to find the bus into the City.
I walked back through the glass-sliding doors into the airport. A sign at the top of the doorway pointed the direction to the Bus Terminus. I should have turned right immediately after I'd exited immigration.
When you travel to Hong Kong airport turn right after the 'Arrivals Hall' and you'll find the Bus Terminus without fuss. Just keep walking until you come to a descending platform that leads out of the airport. You'll hear the buses long before you get there.
I changed some money along the way at one of the many Currency Exchange places in the airport first. It would have been better to travel to Hong Kong with some Hong Kong Dollars in my pocket.
The rates are the worst you'll find so I changed only enough for the bus, a hotel room and maybe a bite to eat.
Once you descend the platform out of the airport, you'll come to the oval-shaped Bus Terminus. Walk to the right-side and 3 sign-posts down you'll find Bus A21.
Bus A21 will take you into Kowloon and right past most of the best budget hotels along and behind Nathan Road.
Bus A21 runs from 6AM until Midnight seven days a week. It departs the Hong Kong Airport every 10-20 minutes and costs $33 Hong Kong Dollars ($4.4USD).
I needed exactly $33HKD because the bus drivers do not have or give change on any of the buses in Hong Kong.
Bus N21 replaces bus Bus A21 after 1:30AM until 5:10AM. It does the exact same route as the A21 but costs only $23HKD.
For super detailed information on the CityFlyer Bus routes and schedules (Including A21 and N21) then go to their Official Website.
Kowloon City
Kowloon City is the peninsula jutting South towards Hong Kong Island. It is the most populous area in Hong Kong and was once the most densely populated place in the world.
Most tourists stay somewhere in Kowloon city. Hong Kong Island does have some Hong Kong hotels but very few are less than 5-star establishments.
I scrambled onto Bus A21 as soon as it arrived and paid my $33HKD. Kowloon City was now within reach.
I set my knapsack down in the luggage rack and headed straight to the stairs that lead to the upper deck of the double-decker bus.
The same Girl was close behind me as I climbed the stairs. I knew she had an excellent view of my bum. I was sure that she was stalking me but she was so good at recoiling into the shadows just when she seemed to give herself away.
I got a seat at the front of the bus on the right-hand side. She walked past me and sat two rows ahead of me on the opposite side.
She looked back several times over the next hour's journey into Kowloon City. It seemed we were both headed for the same part of town. Either that or a beautiful girl was following me.
It was easier to admit the former.
If you travel to Hong Kong on a budget then the best place to be is at the bottom of Nathan Road in Kowloon City. You'll find both the Mirador Mansion and the Chung King Mansion there.
Both of these 'Mansions' are overcrowded and not pretty on the outside. They look like crumbling monstrous rows of shoe boxes stacked on top of each other.
The rooms may be tiny but are usually clean.
People who regularly travel to Hong Kong argue that there are many other hotels away from Nathan Road. It's true but I like the area. It can be abrasive but it's full of life and decent rooms can be had for $100 Hong Kong Dollars or about $14USD a night.
Check some of the prices here.
Some of the hotel rooms are amazingly cheap but you get what you pay for.
Nathan Road is also a short walk to Victoria Harbor. There is nothing like being so close to the waterfront. The views of the city were part of my nightly walk and that's what being in Hong Kong is all about for me.
You can see from the map below where Kowloon lies on the peninsula compared with Hong Kong Island just off the coast.
Arrival in Kowloon and Nathan Road
I must have fallen asleep. When I looked out the bus window I could see that the bus had arrived on Nathan Road. The Girl reacted when I came awake.
I wondered if she knew what we were about to encounter.
I got off at the Bus stop directly in front of the Chung King Mansion. The gates were half closed and the guards yelled "No Rooms". I should have known better than to travel to Hong Kong in the evening when it's toughest to get a room.
That's when the Girl spoke to me for the first time.
"I wrote down a few addresses," she said with a smile. "I have the Lonely Planet Hong Kong & Macau.
It says most cheap hotels are located about a block up from here. Do you wanna see if they have rooms?"
She smiled when I didn't answer her. I was focused on her lips and the way they moved as she spoke.
We walked down a few streets just off of Nathan Road in the Tsim Sha Tsui area of Kowloon. The first hotel's door was locked and a paper sign on the window gave an address on Nathan road. The same address was given at all 4 hotels 'The Girl' had written down.
We walked to that very address and found ourselves standing in front of the Mirador Mansion. The front gates were slightly open as they had been at the Chungking Mansion so we walked inside.
The guards told us that there was only one room available. It was $450HKD ($60USD) for a night.
A withered old Chinese lady was standing beside the Guard. She was scowling at me and 'The Girl'. She was waiting for us to decide. She'd gambled that someone would travel to Hong Kong late at night and without a room booked.
I looked at The Girl. Neither of us had booked a room in advance. We had no choice and the old lady smiled.
"You take it." The Girl offered in a gesture to me.
We argued a little but she finally agreed to take the room. I was out in the cold but my Chivalry was intact.
All hope was not lost though. Good luck was with me that first night in Hong Kong.
Saved by a Jehovah Witness
A man behind me was just signing into his room. He had heard the entire conversation.
"I have a room with 2 beds. You are welcome to use the other bed for the night. It is just until you can get your own room tomorrow." He spoke proper British English but looked Greek with darker features.
I learned that he was a Jehovah Witness. Ironic. They had knocked on my door many times before. I had never answered. But I accepted the offer.
I had no choice.
Later we went for drinks in a bar between the two huge buildings of 'Mirador Mansion' and 'Chung King Mansion'. The girl turned out to be a divorced flight attendant and the guy a carrier of the Jehovah word.
I was so happy to have met them. The first rush of being in a new city coupled with the beer and the good company made me feel very jovial.
The next morning I awoke in my underwear. I was sprawled out in the tiny bed just a few meters away from my Host. I hoped I had not snored.
My 'Host' awoke soon after I'd covered myself. He sat up on his bed and spoke for an hour about imperfect beings. Then he went on about sins and about becoming a Jehovah Witness. The guy was highly intelligent and listening to him was soothing.
I got to put everything in God's hands instead of my own. It was liberating.
Get Your own Budget Room in Hong Kong
Hotel Hunting in Hong Kong is best between 11am and 1pm. People must be checked out of their rooms by 11am and the rush starts about 1:30pm. I searched the floors of the Mirador Mansion one by one until I found the best place for the best price.
It was $23USD a night. Or maybe $24USD depending on where you exchange your money.
The best exchange rate I could find was at:
Wing Hoi Money Exchange Co.
Shop 9B, Ground Floor,
Mirador Mansion, Hong Kong.
Ph. 2723-5948
I was staying in a hotel on the 14th floor. The rooftop was only a few floors up so I visited often and took in the wonderful views. Especially on those nights I couldn't sleep.
Watch the movie below for a good look at the indoor courtyard of the Mirador Mansion and the room I stayed in.
Getting from the 14th floor to the lobby is not easy. The elevators are small and people jam into them until they are overloaded. You end up cramped in a corner, breathing 12 different degrees of ripe body odor mixed with cheap perfume.
But that's when I saw 'The Girl' again. I got in the elevator, keeping my head down to avoid the odour, when I heard her laughing in a mocking way. I looked up to find that she was watching me through the thick mass of bodies in the elevator.
"Where are you going?" She asked.
"I'm going...." I stopped abruptly. I didn't really have an answer. My head was whirling around. I'd just spent the last few hours studying a thick stack of travel brochures that I had 'borrowed' from the Hong Kong Tourism Board.
If you want to raid their chest of goodies they're at:
The Hong Kong Tourism Board.
Star Ferry Concourse, Tsim Sha Tsui.
Ph. 852-2508-1234.
They are open from 8am-8pm daily.
This Girl was looking at me, waiting for me to answer. The elevator was falling to the next floor, packed with other people who were also waiting for me to say something.
I remember the smell of stale tobacco and rank body odor but her face was a bright light amongst it all.
"Why don't we go get a bowl of soup?" She finally suggested. "You can tell me about it."
Where To Get Good Chinese Street Cuisine
We exited Mirador Mansion and came out onto Nathan Road. If you take a left, walk for 50M and then cross Nathan road, you'll find Peking Road. Just a block's walk down 'Peking' road take a right onto 'Lock Road'.
Lock Road runs all the way up to 'Haiphong' Road and is filled with incredible soup shops and food stalls selling every delight from the Chinese cuisine.
We sat at a table together in a quiet corner. The restaurant was nearly empty but a wall of pedestrians passed by the front doors. Haiphong Road is a great place to people watch also.
"What did you want to tell me?" She asked.
"I dunno."
It turned out that she was the one with something to say.
"I'm only here for 2 more days. I'll be taking the train from Hong Kong to Beijing. We should see a few things before I go," she suggested.
"I spent the last few hours pouring over the travel to Hong Kong tourist guides." I said, pulling a thick stack of travel to Hong Kong brochures out of my back pocket.
I felt my waistband drop and it was as though I lost a few pounds instantaneously. But it was my heart that was heaviest now and my feelings were obvious.
"Are you O.K.?" She asked.
"I'll just miss you is all." I replied. Wonderful people are hard to find. Even a cheap vagabond knows how truly rare they are.
"You could always come with me to Beijing!" She blurted it out.
We laughed together but I had already decided to go with her. I was contented to know that my seat at her side was booked at least for a few more days. I picked up the travel to Hong Kong tourist brochures and began reading through them.
Hong Kong Sightseeing Destinations
"Ocean Park is a Zoo and a Theme Park all mixed together. Apparently it's a must-see because of the views of the China Sea from far South side of Hong Kong Island.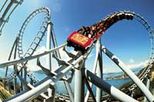 "Travel to Hong Kong to go on a rollercoaster?"
"We could ride the 'Abyss Turbo Drop'," I offered. "If you don't vomit after that, we could join the 'Dolphin Encounter Program' and swim with the dolphins," I suggested.
"I've always wanted to swim with dolphins. They say it has healing power." Her face bunched into a great gleeful smile that melted my heart. I knew I'd gotten to her with the Dolphins.
"If you really want to see dolphins then the best way is to join the best budget Hong Kong Dolphin Watch Cruise."
"The Dolphins in Hong Kong Ocean park are not wild like the dolphins found in the waters between Hong Kong and Macau. If you travel to Hong Kong you'll see the pinkest dolphins in the world. Pinker even than the Boto dolphins in the Amazon River in South America."
'The Girl' was staring into space now. In a low tone she said, "I want to do that Cruise. But first we'll swim with the Dolphins at Hong Kong Ocean Park. If they don't bite me then we'll do the 'Dolphin Watch Cruise'.
Find out more about Hong Kong Ocean Park and the Best Available Full Day Ocean Park Tour.
I turned to the next page of the travel to Hong Kong brochure.
"Then we have Victoria Peak or 'The Peak'.
Going up to Victoria Peak together is a no-brainer. We can take the Peak Tram all the way up to the Wok-shaped Peak Tower Galleria and just gaze out over the glitter of Hong Kong Island from the viewing platform."
"In the day or night?" she asked, wondering the best time to go.
"The night is more romantic," I said.
I said it without thought. The damage was done and I could do nothing about it. 'The Girl' just looked at me. She was thinking hard. I had to start talking about Victoria Peak again, which thousands travel to Hong Kong to see every day.
"It's a very expensive trek up there though," I warned. "But it's one of those things that you have to do if you travel to Hong Kong." I didn't look up at her as I read. I could feel her eyes on me. She was summing me up.
She didn't speak even when I paused. I was going to have to ride this one out. I had to keep talking without looking at her. I felt she was about to leave at any time.
"I read an article that some guy wrote. He recommended taking the #15 public bus to the Peak instead of the costly combination of the 'Peak Tram' and tourist Bus #15C."
"Just how expensive is it?" she asked.
"There's a Hong Kong Island Tour that goes up to Victoria Peak and then to the 'floating village' of Aberdeen and lastly to Stanley Market.
All for $30USD."
Read more about Victoria Peak before you travel to Hong Kong and watch the Victoria Peak Video we shot. It shows you exactly how we got from Kowloon to the top of Victoria Peak.
She kept eating her soup as we spoke but I didn't touch mine. Just because I travel Asia a lot doesn't mean I can use Chopsticks.
"There is also Disneyland Hong Kong," I began. "I haven't been to Disneyland since I was a kid. And that was in Anaheim, California."
"If we had kids..." She suddenly stopped speaking. I could see she was not happy. She wanted to take that back.
"You couldn't travel to Hong Kong with kids and NOT take them to Disneyland," I began. "Kids would never forgive you if you didn't take them to Disneyland after you travel all the way to Hong Kong."
She looked down at the travel to Hong Kong brochure I was reading. She'd recovered well.
I couldn't think any longer. She was leaning so close to me that I could smell her hair. It was of expensive peach shampoo mixed with the smell of tar from the roadwork being done around the city.
"How do we get there and how much is it?" She asked.
Learn more about Disneyland Hong Kong and the best Disneyland Tour on the market.
Hong Kong Museums
"There are a lot of Hong Kong Museums we could visit.
Just to name a few.
It's all here." I suggested, pointing to a page in the travel to Hong Kong Brochure.
"I can't believe people travel to Hong Kong for the Museums," she started in. "But I guess there are some Museum buffs out there. I'm just not one of them." She looked at me as though waiting to convince her. It was a blatant challenge and I accepted.
"Well, I know of a good Hong Kong Museums Tour. Right now the Royal British Museum has loaned many of their ancient Egyptian artifacts to the Hong Kong Museum of Art. And the Space Museum is supposed to be incredible."
'What a Geek', she must have thought but she kept smiling at me the entire time.
Learn more about the various Hong Kong Museums available to visit.
Hong Kong Star Ferry
"We could travel to Hong Kong Island on the Star Ferry. The Hong Kong Star Ferry makes the crossing from Kowloon to Hong Kong Island about every 10 minutes," I told her.
"It would be nice to float across Victoria Harbor. It costs only $2.20HKD (.30c) each way so we could just ride back and forth until we get bored or fall overboard," she replied with a lowered grin, her eyes focused on the same page of the travel to Hong Kong brochure that as I was.
"It runs from 6.30am to 11.30pm every day. It covers the 'Tsim Sha Tsui' to 'Central' route and the 'Central' to 'Tsim Sha Tsui' route. I phoned them @ (852) 2367-7065 and talked to some helpful guy."
"There is some video footage of the Hong Kong Star Ferry doing a crossing of Victoria Harbour on the Victoria Peak Webpage.
Avenue of the Stars
"The Avenue of Stars is on the Tsim Sha Tsui Promenade. You're sure to see it if you travel to Hong Kong. It's Hong Kong's version of the 'Hollywood Walk of Fame'. It pays tribute to the most famous and successful Hong Kong stars of the Silver Screen."
"Jackie Chan's hand-print is somewhere, embedded in the concrete the same way they do for the Stars in Hollywood. Bruce Lee stands 2 meters tall in the form of a bronze statue in his honor."
"They also have the 'Symphony of Lights' which you can see from the Avenue of Stars." She interjected.
"That's true. The 'Avenue of Stars' may be the best vantage point to watch the city Lights Show. It runs every night at 8:00pm. But on Monday, Wednesday and Friday, the light show is in English. On the other nights, it's in Cantonese.
"During Festival Times the light show is supplemented by fireworks that are worth seeing. That's what it says anyway."
Hong Kong Zoo
"They first opened the Hong Kong Zoo to the public in 1864... It's so old." I said. 'The Girl' was looking down at another Hong Kong Zoo guide.
"They have a beautiful botanical garden as well, she added. "Because the plants were first put in the ground back in 1864, they have become gardens of Botanical study," she added without looking at me.
"But it's mostly birds in the Hong Kong Zoo." I said. She was still looking down at the travel to Hong Kong Guide she'd taken from me. Seemed she was interested in the Hong Kong Zoo.
"There are over 500 different species of birds in the Hong Kong Zoo. They must just keep making love and having more babies," she said, smiling to herself as her eyes darted over the Brochure.
"I see they have Jaguars, Gibbons (Monkeys), Two-Toed Sloths and Orangutans from Borneo," I broke in. My voice was irritated. She smiled and looked at me. Her smile vanished quickly though. It never seemed to stay very long.
"You kind of look like an Orangutan from Borneo," she said with a playful tilt of her head. "Maybe you could get us in for free!" she added. And she laughed sincerely and gave me that teasing mischievous eye.
If you are looking to see the Giant Pandas then you'll have to make a visit to Hong Kong Ocean Park.
Hong Kong Beaches
"I've always heard there are some fabulous beaches around Hong Kong. Some people travel to Hong Kong just to see them. A few of the beaches are well worth the visit if you know how to get there and when to go." I said, reading from the travel to Hong Kong brochure.
"Are you going to loan me a bikini?" She teased me with a smile and a wink. "Because I didn't travel to Hong Kong with a Bikini tucked in my bag!"
"I have an extra one," I said. We laughed. We were unaware that we were moving closer to one another and sharing the fine print of each others' brochures.
Learn more about the very best Hong Kong Beaches.
"I absolutely love to hike. I didn't travel to Hong Kong to spend a week exploring the trails, but I'd love to spend a day at it," she began. "They have extensive information on the four best trails to hike in this travel to Hong Kong book."
She looked up at me with pleading blue eyes. "I wish I had more time." She looked saddened but I was in there as quick as I could.
"You could stay a day longer," I suggested.
"I thought you were coming with me to Beijing?"
I needed her to say that. It soothed me and allowed me to move on in ease. I didn't like the idea of her leaving Hong Kong without me.
"How are we going to get to the hiking trails?" I asked. But I was pretty sure we wouldn't go. She didn't seem like the Hiking type.
Learn all about Hiking Hong Kong and the best places to go.
Horse racing is a huge passion for the people in Hong Kong. Many foreigners who travel to Hong Kong recommend it even for budget travelers. The atmosphere, especially on the weekend, is supposed to be frantic.
The Horse Racing in Hong Kong only runs from September to June. They race twice weekly and alternate racing tracks each time. Sometimes they race at the 'Shatin' raceway in the 'New Territories' or the 'Happy Valley' raceway near 'Wan Chai'.
'Happy Valley' racecourse is by far the better of the two locations. It's a brand new track that is much larger than the older 'Shatin' Race course.
It's also closer to the city and hosts quite a party on Wednesday Nights. The beer on tap is half priced on Wednesdays and they also have Chinese to English translators there who are happy to explain how to place a bet and who the favorites are.
Some people travel to Hong Kong Just for the Horse Racing. Travel Asia from North to South and gambling of any kind is very popular. But the people in Hong Kong really love their horse racing.
Just watch their faces as the horses come past the finish line. Some are more excited than any person you've seen in your life while the man next to him looks ready to put a pistol to his head.
Giant Buddha at Po Lin Monastary
"This thing is the tallest outdoor seated bronze Buddha statue in the World!" I announced after reading about it in my travel to Hong Kong Brochure.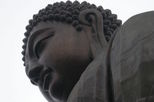 "A friend of mine saw it and said it was so large that it made him feel small, weak and insignificant." 'The Girl' added.
"I guess that was the point when they built it." I challenged. Something was stirred in me by the religious awe of Buddha. My mouth spoke my mind for me. "Buddha wouldn't approve of divorce."
I shouldn't have said it but I needed to know more.
"Are you judging me?" She asked, poised to pounce.
"I'm sorry. I just felt such curiosity." I pleaded. She looked down at the brochure in my hand.
"Read what it says about this 'Giant Buddha' and I'll tell you what you want to know."
I got busy with the task. It was all business now. Getting through the travel to Hong Kong Brochures and listing all the Tourist Destinations had to be done quickly.
"The Giant Buddha statue sits on Nong Ping Plateau and is surrounded on all sides by mountainous countryside." I stopped and looked up at her. She was smiling but asked quickly:
"How do we get there?"
"We can just get the Lantau Island Tour including Giant Buddha at Po Lin Monastery."
"Or we could go it alone and get the MTR to the 'Tung Chung' station'."
"We can even get a Cable Car Ride a full 5.7km up the side of a mountain on Lantau Island," 'The Girl' said excitedly. Her eyes were infectious and almost as beautiful as Lin's.
"The problem is that the 'Giant Buddha' and 'Lantau Island' are far away from Kowloon and Hong Kong Island. It's a 1.5 hour journey on the MTR to 'Tung Chung' station'.
"That's 3 hours taken up on the train," I said to 'The Girl'. "And don't forget the shuttle bus from the MTR station is a 10 minute ride to 'Nong Ping'. That's the village next to the 'Giant Buddha'.
"Where do we get the shuttle bus?" She asked.
"It leaves every 10 minutes from just outside the main exit of the 'Tung Chung' MTR station."
"The good news is that 'The Wisdom Path' and 'Po Lin Monastery' are all in the same place," she added.
"O.K?" I asked, waiting for the signal to question her about her divorce.
"Not now. Tell me about 'The Wisdom Path' and 'Po Lin Monastery' first."
So I told her. "Some people travel to Hong Kong just to walk 'The Wisdom Path' and pray in the 'Po Lin Monastery'. I once loved a girl who was Buddhist. It's a beautiful way to get married and I learned a lot from her.
"So you are also divorced?"
"No. Still married today but....."
"You want to know how badly it hurts." And she went off in laughter. She laughed so hard she kept saying; "I cannot stop laughing."
I was angry but decided to tell 'The Girl' more about the Wisdom Path. Maybe she was one to travel to Hong Kong just for the wisdom path.
The Wisdom Path
"The Wisdom path is meant to be a path to Wisdom. But it's also a path in the form of a horizontal figure '8' or the sign for 'infinity'. It seems ironic to cut a pathway to Wisdom that never comes to an end."
"Along the path you'll encounter halved tree trunks with ancient Chinese writing carved into them. It's a replica of the Centuries old 'Heart Sutra', a prayer recognized by Buddhists, Confucians and Taoists alike."
"Let's walk the Wisdom Path!" she said excitedly. We can always use a little more wisdom."
"But the path never comes to an end. You never find wisdom, just endlessly search for it."
"No. Wisdom is not like a car, Silly. With a car you either own one or you don't. But wisdom grows and you always keep a little bit each time."
I just stared at her like an idiot.
"Been reflecting a little too much?" She asked with a touch of sarcasm. "I'll come along if you know how to get there. But I'm leaving Hong Kong in 2 days."
"Then we don't have much time!"
You have:
Taxis, Buses, MTR, KCR, Train and the Ferry. Hong Kong transportation is cheap, fast and safe and goes just about everywhere.
Read More about the various forms of Hong Kong Transportation.
But for transportation out of Hong Kong I used:
China Travel Service Hong Kong
Also a place to get your Chinese Visa is at China Travel Service. Everywhere I looked the prices were higher than at China Travel service Hong Kong.
They even offer an overnight express service for Chinese Visas. If you travel to Hong Kong yet want to get out and into China quickly then get the overnight visa. It's a lot more expensive than waiting the usual 3 working days for a Chinese Visa.
The office I used was at:
China Travel Services
.
1/F., Alpha House,
27-33 Nathan Road, Tsim Sha Tsui,
Kowloon, Hong Kong.
They sold me a bus ticket to the Chinese city of Nanning at China Travel services. They also have a Chinese visa application desk inside the office. This is because China Travel Services is owned and operated by the Chinese Government.
You cannot buy Train tickets at China Travel Services. They are sold only at the address below. Which is a pain to get to because the Light Rail Service (LRT) station stops much too far away from the train station.
China Railway
. (Hong Kong)
Shop G14, Hung Hom KCR Station,
Kowloon.
Tel. 2732 1883
Fax. 2264 1302
They're open Daily from 8am-7pm.
'The Girl' and I were still in the soup shop. I felt sloppy eating the noodles. They curled into my mouth and spattered hot soup on my lips and chin.
They'd only given me chopsticks. Travel to Hong Kong and I should accept that but the staff took great pleasure in watching me use them.
"So, where did you end up staying? Did you get another room or are you too attached to your new friend?" (She meant the guy who had offered me his spare bed for the night. I hadn't seen him since).
"Ha, ha. Very funny, I reacted. "Are you jealous?"
If you plan to travel to Hong Kong then there are a multitude of good spots to look for a cheap hotel in Hong Kong.
Do some research about the huge selection of Hotels in Hong Kong.
Hong Kong is cut up into four sections
Kowloon is connected to the Mainland and is the residential area for a lot of people who work in Hong Kong. Also it is a budget haven for tourists who travel to Hong Kong.
Hong Kong Island is the central business hub and is located just across 'Victoria Harbour' from 'Kowloon'.
The New Territories are also connected to the Chinese Mainland. They run North after Kowloon and past Boundary Road up into China.
The Outlying Islands are the 234 islands that lay in and around Hong Kong.
Very little Hong Kong nightlife before 6pm. It all starts to wind up about the time happy hour begins. There really is an endless selection of bars, nightclubs, hostess bars and wine bars for the well-heeled in Hong Kong.
Read More about the available Hong Kong Nightlife.
'The Girl' and I went to a pub after the soup shop. It was my time to get in there and ask my question. I wondered if I needed to pay for my room that night.
"I could save $23USD if I just shuffle my stuff into her room," I thought. But she was silent as we sat on the bar-stools. I didn't want to push it. She got to her third beer before she looked at me.
"You know. It was nice flirting with you. You're a nice guy." She said casually.
"What do you mean?" I asked.
"I changed the departure date on my ticket to Beijing. I'm leaving tomorrow morning." She said like something distasteful was in her mouth or stuck in her teeth.
"When did you change the departure date?" I asked. I was shocked.
"This morning." She replied.
"So you'd already decided before you even saw me in the elevator?"
"Yes. You asked about my divorce. Well, here it is. Humans are not fit for relationships. It's an impossible task. I've been there, done that and got the divorce certificate to prove it." She was hard now and tough-willed.
"I didn't ask you to marry me," I pleaded. "Besides, you can't travel to Hong Kong without doing some Hong Kong Sightseeing."
"I'm sorry. You are someone I have to get away from," she began. It was though I had forced her to tell me a truth she didn't want to share. "This is all just getting silly. Playing all the stupid games. To what end? Did you think we were going to have sex?" She asked with an incredulous look on her face.
I shrugged my shoulders. "I'm a man."
"Honest answer," she said with a smile. I think she was somewhat flattered. "I really like you but I don't travel Asia or anywhere with people. It doesn't work either. You should consider it a compliment that I feel the need to get away from you."
She paid the bill, got off her stool and started out the door.
"Where are you going?" I asked after her.
She looked back over her shoulder at me. She wasn't happy about it either. "I'm going up to my room to get some sleep. I have to be early at the train station tomorrow morning. It's a long journey to Beijing."
"At least give me your e-mail address!" I begged. She just looked at me harshly. I was bothering her now and I could see it. She was cold and ruthless now.
"Why bother? We'll never see each other again. Let's be honest."
She turned and walked out the door without looking back or saying another word. I sat in the pub for another hour before going up to my own room. I wanted a travel partner. But maybe she was right and it's an impossible task.
Don't forget to check out some Photos on the Hong Kong Pictures page.
This is the Hong Kong City Light Show. It's badly cut and boring. Travel to Hong Kong yourself and see that it's so much more than this bad video.
That's travel though, isn't it? If you'd been beside me on the first night in Hong Kong with all those lights, you would have seen more than this video could ever express.
Each night there is a Symphony of Lights Hong Kong Harbor Cruise that serves drinks while you watch the show from the waters of Victoria Bay.
Highly Reccomended.
Left Your Heart in Hong Kong?
I did. Hong Kong is a place you visit and reminisce about often. Tell us what you think makes Hong Kong so special.
What Other Visitors Have Said
Click below to see contributions from other visitors to this page...

Useful Telephone Numbers in Hong Kong Not rated yet
Police, Fire and Ambulance Dial '999' and they come runnin'. I had to dial them myself and they speak excellent English and are very professional …
Swim With Dolphins Hong Kong Not rated yet
Dear Sir/Madam I was just wondering if you do the swim with the dolphins program at the Ocean Theatre and how much it costs as i may visit. Hope to …
Return to the Top of the Page
Some Shanghai Travel After You Travel to Hong Kong

Leave Travel to Hong Kong and Return to Our Budget Travel Homepage