Wat Phnom and the Birth of the Capital City of Cambodia
---
Wat Phnom is a temple at the top of a hill in Phnom Penh, Cambodia.
It's existence met the standards of Buddhist law that tells of a higher power.
This power chose the new Capital city of Cambodia after the previous one was sacked by invaders from Thailand and Vietnam.
---
Wat Phnom is the destination of faithful tourists interested in the oldest structure and the Divine Buddhist teachings that demanded a sacrifice of the devout.
A trek to the top of the hill will take you through thick groups of food vendors, Buddhist Monks and tourist drawn to the spectacular.
If you really want to see the highlights of Phnom Penh, Cambodia, then there is no better tour that this....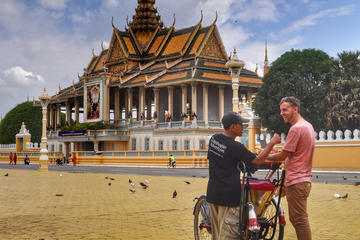 It is by far the best, most up to date itinerary there is for seeing the most important highlights of Phnom Penh, Cambodia. There are other tours, but most will take you places that are no longer of significance, and will overcharge you for the privilage of a wasted day.
Wat Phnom was the birthplace of the modern day Capital city of Cambodia.
And the temple of Wat Phnom was built to mark the calling of Buddha to build in this place. It is both ancient and majestic.
The current temple was last rebuilt in 1926. But the most ancient of South Asian architecture was left untouched because the main structure was so well built that it needed nothing from the hands of men and women.
Legend tells of a particularly heavy flood and a faithful woman named Daun Penh, who found an unmovable tree on the banks of the Mekong.

It was the tree of foundation, resilient to the worst of natural devastation and worthy of a foundation upon which a city could be built.
According to the legend, she found four statues of Buddha hidden Inside the trunk of the tree,
She' along with those who had seen her findings built the temple in 1434 in order to house the four sacred statues of Buddha.
Today, Wat Phnom remains the highest artificial hill in Phnom Penh and the center of many cultural celebrations.
Each year, during the Lunar New Year, revelers gather at Wat Phnom to honor those who served the calling of Buddha to begin building in a place most thought impossible to manage.
They were wrong.

Drive around it on your motorbike during the day or night and it is a serene experience in the midst of a chaotic city.
Leave Wat Phnom and Return to Phnom Penh City

From Wat Phnom to Our Budget Travel Asia Home Page